The beginning and Challenges

Last year, we had an opportunity to re-examine Segment's 8 year-old brand and brand-positioning as we move up-market. Along with the brand refresh kick off, the website re-design project started as well. We had the chance to review the overall performance of our website, set the baseline metrics and improve upon.

As a sole designer on the acquisition team, working with Engineers, Engineer Manager, Marketing Programs Manager, I have to advocate for design and drive discussions. There are multiple challenges along the way, namely:


Building a design system from scratch while establishing an internal tool (CMS and page cloner)
Establishing preliminary processes to align cross functional team, from building folder structure, to organizing JIRA board, to refining QA process.
Championing for our customers and aligning stakeholders to share the same goals
Driving initiatives when opportunities came, finding baseline metrics and setting product vision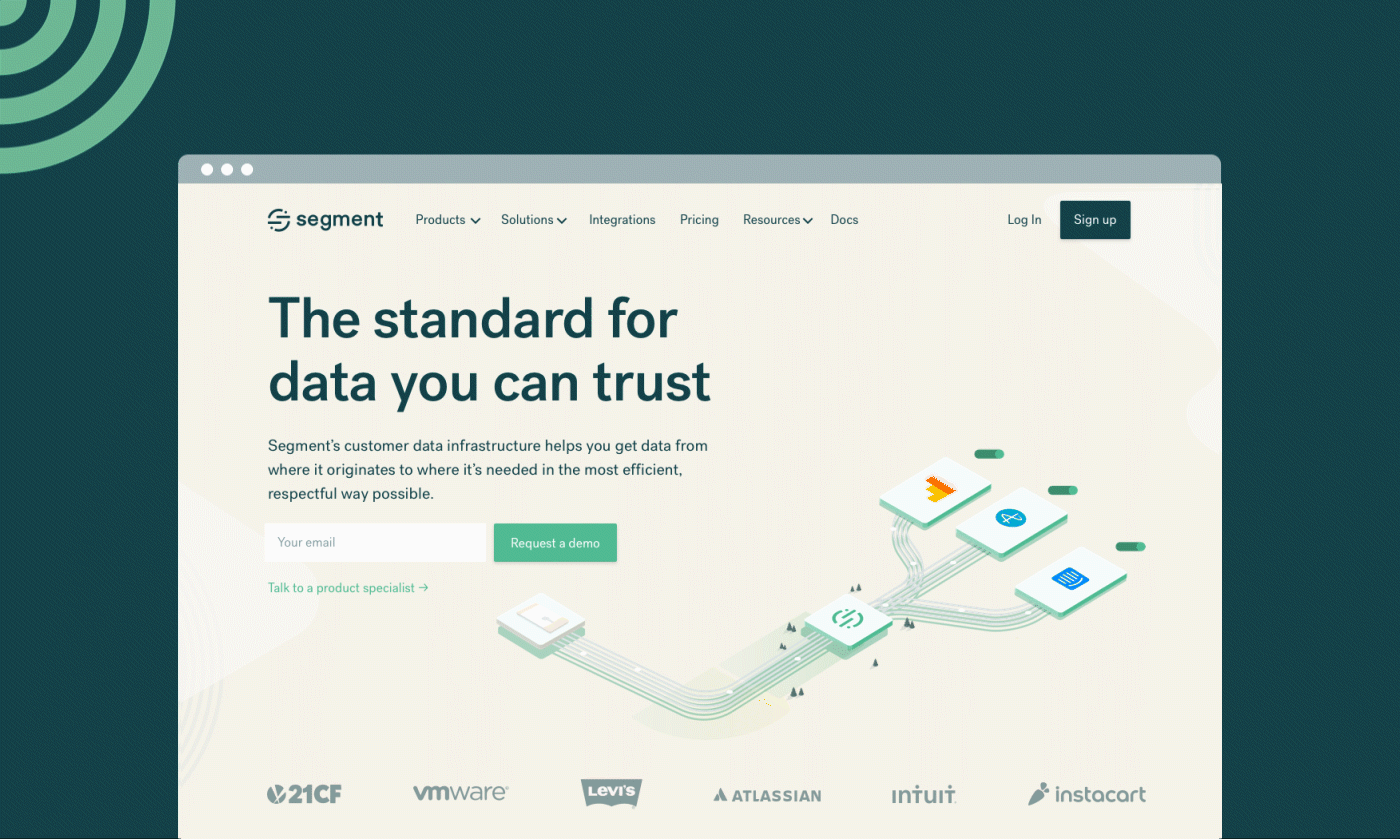 Research
With quantitative and qualitative data, we identified there are two common paths and categorized our visitors into two types hypothetically: a. technical users b. non-technical users
a. User flow for a technical user
- Check if Segment supports the tools they're using
- Read Segment's docs
- Implement Segment to validate
b.
b. User flow for a non-technical user
- Learn how Segment can make their job easier and what Segment offers
- Send it over to engineering team or whoever will be implementing Segment for validation
- Request a demo to learn more about the products and pricing
Problems
Users are having hard time finding integration catalog
Dropdown behavior is not predictable (dropdown vs direct link)
Our current nav contains a lot of texts with no clear visual hierarchy which makes it hard to parse
Goals & Success metrics
The site will have great compatibility, usability and accessibility
Visitors can get the Segment value props with few clicks
MQLs increased by 20%

Proposed Designs
Improving navigation

Design works closely with XFN teams to refine information architecture
User testing

Design collaborates closely with content strategists on page redesigns

Ensure re-design UI elements and patterns are scalable
Improving internal linking and page layout