Launching Segment's workspace home & improving on-boarding experience

We used three months to improve Segment's customer activation rate by 36% in 2019. This is just the start of Segment's workspace home.


My Role


Customer insights and ideation
I partnered with one product manager and one researcher to uncover insights and translate concepts into features that address customer behaviours and motivations.

Experience strategy and vision
I created prototypes to share the vision. This helped to evangelise ideas and gain alignment.

Design execution and validation
I designed on Segment Web App. I executed journeys, wireframes, prototypes and design specs.

Design pattern definition
I partnered with another Product Designer to define new UI patterns and socialized it across the design team.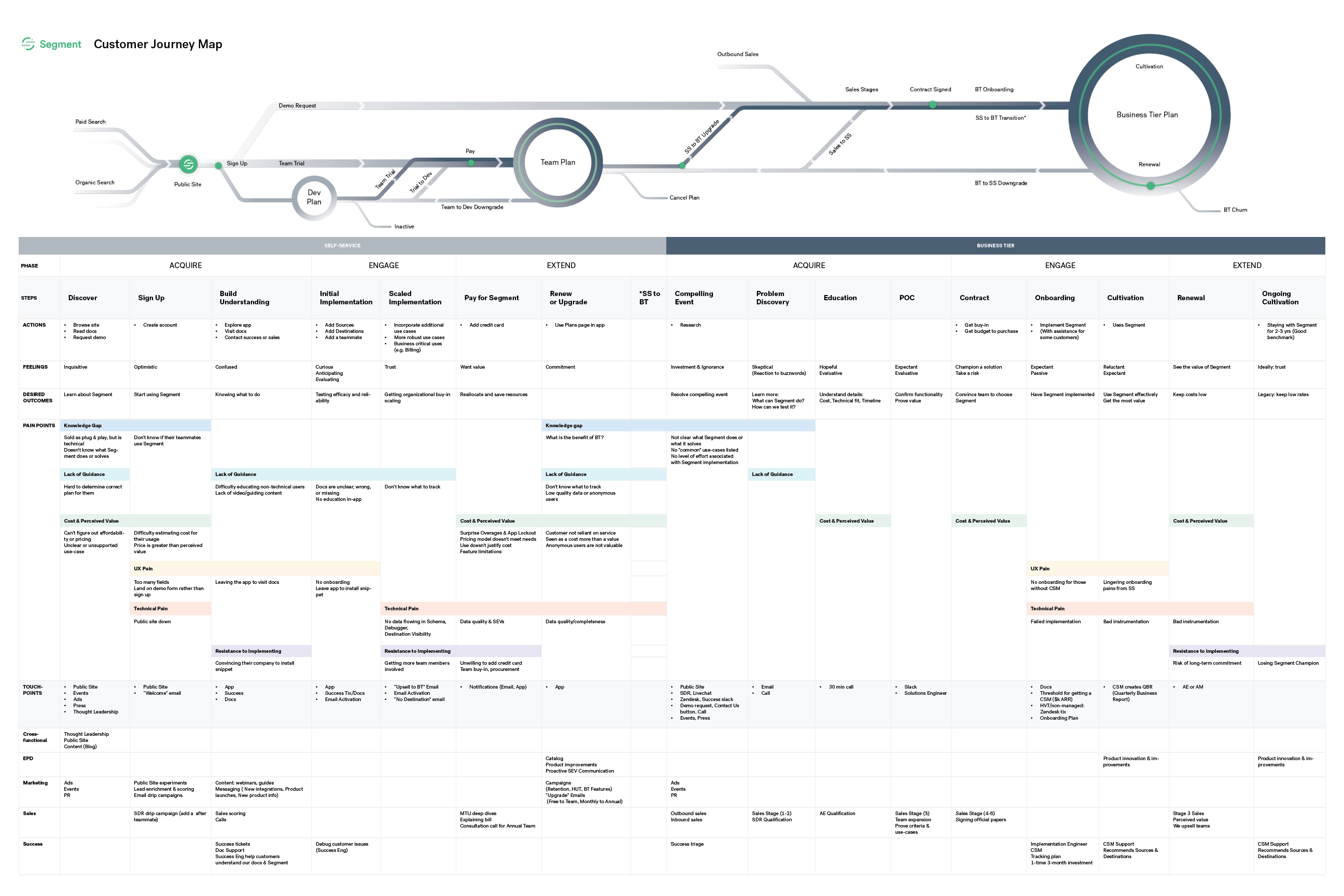 The Challenge

Enable SS customers to start getting value out of Segment and reach the habit moment faster


Segment is a complex product by nature, the original implementation took weeks for our customers to finish. How might we shorten the implementation time to provide faster validation for our self service customers?

In this project, we focused on our self-service customers instead of BT cutomers, because BT customers tend to get more technical supports from solution architects.



---


The Discovery

Customer Insights

We know intuitively that Segment is a complex, technical product that is difficult for users to get started with. A live implementation discovery session revealed some major insights about customer activation and several usability problems that drive this state of things.

Pain points:

There is very little visibility around the status of implementation during setup
We encourage new customers to start a difficult route that is hard to complete
Existing user flow:




The Vision

Workspace home as a command center


Any customer who signs up for Segment is guided through their entire activation process in a logical, step-by-step way that leads them to the quickest path to getting value from the product. They are able to manage and reference their entire implementation experience from the Workspace Home, the new command center and dashboard for customers within the Segment app. Customers are provided with discrete activation and implementation milestones to hit in an ordered fashion. Customers feel confident throughout their entire setup process thanks to the frequent feedback, visibility, and validation that the app provides with respect to their implementation.



The success metrics


We measure by numbers of activated self service customers.
Aha moment = 1 source, 1 destination, data flowing = activated
Habit moment = 1 source, 2 destinations, data flowing
Success = Improve activation rate by 30%




How might we assist users to set up and implement Segment as quickly and intuitively as possible?


Proposed user flow:

On-boarding and learning to unlock the potential of customer data step by step


A checklist will greet users in the Workspace and tell them step-by-step every single task that they need to complete in order to activate. The checklist is so explicit and so granular that users never feel like they don't know what to do next or how to do something that they need to do. The initial activation goal itself lowers the activation bar to the easiest set of tasks possible in order to get end-to-end value from Segment for a customer: get website pageview or mobile screenview data into a Destination and start using that Destination immediately.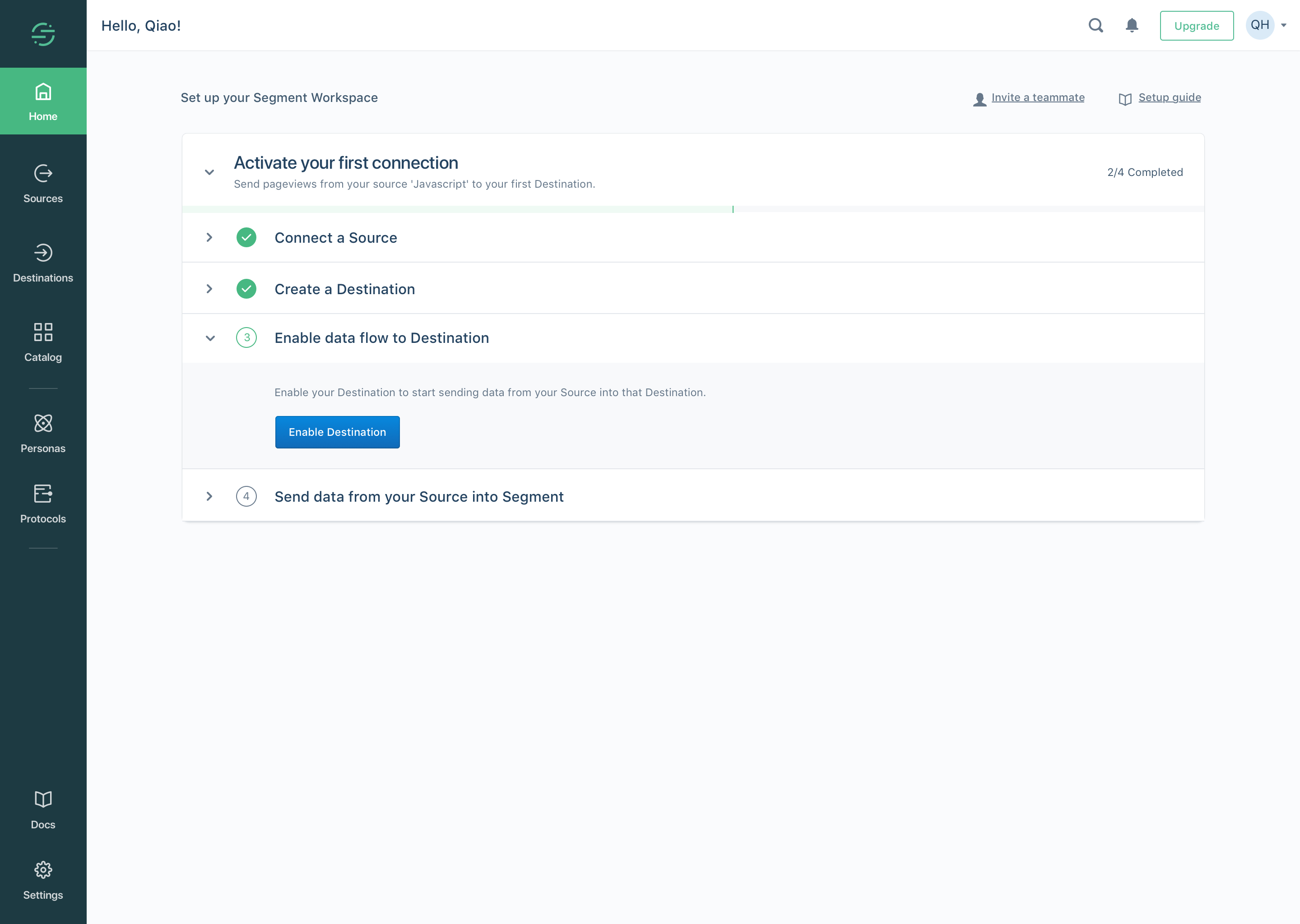 Providing visibility into the implementation process


They will have data flowing from a Source into a Destination. We provide our customers a visualization to verify that data is flowing into Segment. Activation is now complete!


Defining a new design pattern



The impact

Increased new customer activation rate by 32%

During this project, I've learned to always keep the big picture in mind without losing sight of the little details. Launching is only the beginnig. There are more insights and analysis to come. I'm excited to come back to the project in the near future.









©

Qiao Huang. ALL RIGHTS RESERVED